Summary of the meeting 19th November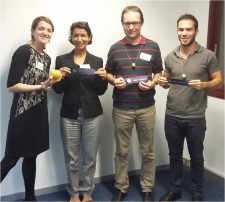 We were absolutely thrilled to have the last meeting animated by Chelo, the "top banana". The theme of the meeting was fruits and vegetables and the decoration of the room was according with that. Leon established the word of the evening: "Orange" which has plenty of meaning. Three interesting speeches were carried out by Damien, Albane and David. A Greek toast by Anastassios animated the pause. The improvisation section, table topics, was animated by our Area governor Wilfried in a hilarious way evoking the subject of fruits and vegetables. Elisabeth, "the second banana", was in charge of the evaluation section and their team of evaluators realized a great job encouraging all of the speakers and suggesting tips to improve their oral skills. As you know, at the end of each section we vote for the best performance, even if sometimes is like compare apples and oranges. The winners were:
* Best speaker: David.
* Best table topic: Anastassios.
* Best evaluator: Soraya.
This time the winners received a ribbon and another medal, do you recognize it?