Lyon Toastmaster Unlimited is launching a special program for youngsters – Youth Leadership Program (YLP)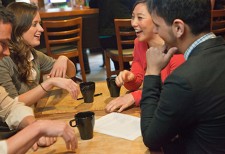 The program is fully designed and organized by Toastmasters International (http://www.toastmasters.org/Membership/Community-Based-Programs).
YLP is for youngsters (12-17 years old) who wish to develop their public speaking and leadership skills. It will take form of 8 weekly learn-by-doing meetings under the supervision of our Club. The YLP program will be held in ENGLISH and is absolutely FREE OF CHARGE for participants.
The participants will each get a Workbook in English to help them prepare themselves for the following meeting. They will receive the YLP Program Certificate at the end of the 8 weeks period.
The YLP Program will start after February vacations and will take place in Lyon.
An introductory meeting with participants, their parents and/or teachers will be programmed before the Program starts. All the registered persons will be invited for this introductory meeting.