8th September: First meeting for this New year Toastmasters!
Are you ready for a new exciting meeting? See your the next 8th September 🙂
Thank to every memb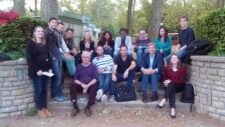 er for the last year, it was one of the most amazing year of our club!!!
You may know that your toastmasters subscription must be renewed. If you want to profit from our best price, send a check before the 31st of August 2016.
FEES = 120€ Before 31st of August
140€ FINAL PRICE!!!
CHECK PAYABLE TO: LYON TOASTMASTERS UNLIMITED
Postal Adress : ILTC LYON
28 Rue Louis Guérin
69100 Villeurbanne
www.iltc.fr
Vous n'êtes pas sans savoir que votre souscription à Toastmasters doit être renouvelée. Si vous voulez profitez de nos meilleurs prix envoyez nous au plus vite votre chèque avant le 31 Août 2016.
See You Soon!
A Bientôt!